A PERSONALISED STOCK TRADING STRATEGY DESIGNED BY YOU FOR YOU.
BECOME A QUALIFIED SYSTEM TRADER IN 6 MONTHS.
The global markets offer a chance for every individual to make significant changes to their lives.

This doesn't necessarily mean rolling in untold amounts of money, indeed, many have more simplistic goals:

→

paying the mortgage

off

early,
→ having accessible funds to buy things you want without thinking too hard about it,
→ taking an overseas holiday each year or
→ not working for someone else or doing the 9-5 routine.

You can choose your desired goals and outcomes. It's completely up to you.


Either way...

If you're looking for a clever and calculated way to flip the fear and uncertainty of stock market trading and investing on its head...and turn it into a profitable endeavour...read on...

We've all heard that trading should be operated as a business. The job of a business owner is to design systems so that the business can run either on its own, or with minimal input from the owner or employees - like McDonalds.


Being the business owner, however, means it's your job to design and implement those systems. It's a well known fact that many of

the worlds top traders and hedge fund managers use systems

.

David Harding, founder of UK based Winton Capital Management and who, at age 55, has a personal fortune of US$1.5 billion and is irrefutable proof system trading works¹.

David Druz, CEO of Tactical Investment Management, who has turned every $100,000 into $3,471,446 since 1995².

Jim Simons, an American mathematician and code breaker, who earned $1.5 billion in 2005,

$1.7 billion

in 2006 and

$2.8 billion

in 2007 as founder of mega hedge fund Renaissance Technologies³.

They all developed rules, or repetitive tasks if you like, that are proven to work and enable much of the human emotion to be removed from day to day operations.

This is where computer programs merge with the trading world and is the basis of the Trading Systems Mentor Course.


There are hundreds, if not thousands, of books, courses and available systems that you can pick from right now. But why is it that with so much on offer there still exists a huge gap between those that are truly successful and those that constantly struggle to be profitable traders?


Simply put - the strategy they follow or the system they buy doesn't fit their personality, beliefs, goals, risk appetite or lifestyle.
But that now changes.

DEVELOP A SUPERIOR WEALTH-BUILDING STRATEGY
AND REMOVE THE ANXIETY FROM YOUR TRADING.



The first section of the Trading System Mentor course provides the necessary knowledge required to become a successful systems trader.

A profitable system is not just a bunch of buy and sell points or indicators. It encompasses your

complete

emotional makeup. After all, you could develop the world's best system but if it makes you feel uncomfortable then you won't be able to execute it as designed.

This extensive theory section contains:

→ 125 comprehensive lessons
→ 30+ videos
→ 42 quizzes and challenge tasks


Now, stay with me. These could be the most important few paragraphs of text you ever read when it comes to your trading...

In the second section, we dive deep into the practical application of your new knowledge.

You will personally design, develop, program, backtest and finally

trade

your very own system - a system that you will have built from the ground up to:

› suit your personality,
› match your emotions,
› suit your lifestyle and
› achieve your objectives.

But here's the kicker...

This complete process will be under the

strict supervision

of two highly experienced mentors who, combined, have

45-years trading experience

and will offer

unconditional one-on-one guidance

and support for the full 6-months.



A TRUE ONE-ON-ONE MENTORING RELATIONSHIP



Unlike other so-called 'mentor courses' the key to your success is the personal communication between student and teacher throughout the entire process. We communicate with you via:

√ Fully secure Learning Management System, (LMS)
√ Team Viewer Software
√ Skype
√ Email
√ Phone

Key benefits of personal mentoring enables:



you to step out of the day-to-day and take an objective look at your trading business
a space to brainstorm ideas and plan for the future
an independent sounding board via an impartial source
a catalyst to inject new energy into your trading business and take it to the next level
Your mentors for the coming 6-months are:
___

Nick Radge
Nick has been trading since 1985 and is a professional trader, analyst and author. He worked on the trading floor of the Sydney Futures Exchange, worked for international banks in London, Sydney and Singapore. He regularly consults with financial planners and accountants and is a keynote speaker for ATAA, AIA, ASA, Traders Expo and SKY Business. He resides in Noosa with his wife Trish and 3 teenage children.

Craig Fisher
Craig began his trading career in 2000 and now specialises in technical analysis and the development of computerised trading systems. He is considered an expert AmiBroker programmer and codes strategies for The Chartist and clients around the world. He holds a Diploma of Business and a Diploma of Financial Services (Financial Planning). He resides in Noosa with his wife Kate.
When you grasp the concepts of robust systems trading, expect an epiphany.

Have you ever had one of those 'light bulb' moments when all of a sudden everything just falls into place?
You wondered how you'd missed it before, right?
Whilst they only happen occasionally, they do happen - if you're lucky. There is nothing more exciting than designing and building your own wealth building formula and then watching it start generating profits for you.

Indeed in the summer of 2010 I built one of my best strategies which continues to serve me very nicely today.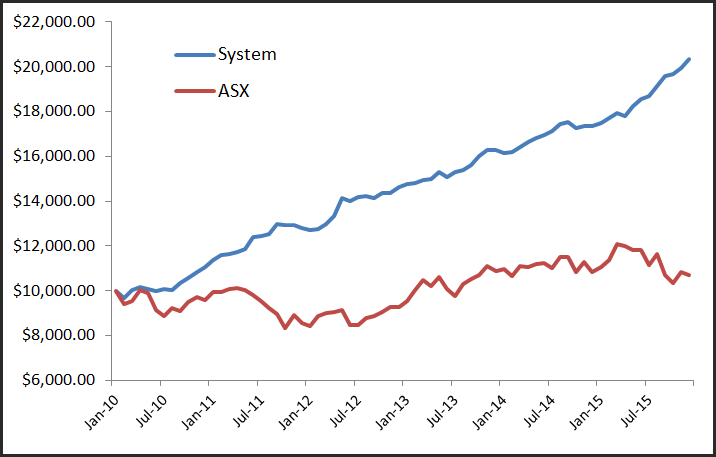 The chart clearly shows that the ASX has gone sideways since 2010. Many are calling for a lost decade. Growth investors are scratching their heads wondering what lies ahead in the next 5-years.
But even when a market moves sideways there are still opportunities - if you have the right system and if you have the knowledge to build and implement that system with complete confidence.
Which is what the Trading System Mentor Course will do for you.
- - - - - - - - - -
WHAT STUDENTS ARE SAYING

Michael H.
"I want to thank you...for the fantastic programme you have created. As you know I've been around the markets for years and spent considerable time and money looking into many trading methods. This without a doubt is the most honest and complete programme I have ever come across. I cannot recommend it highly enough to anybody who seriously wants learn how to trade."
Len Z.
"I am about to finish the mentoring program and I wanted to give you feedback. I found the mentoring program an exceptional learning experience. I learned what it takes to become a profitable trader. I learned how to design and assess trading systems. I found the course materials well written and an invaluable reference for future study. The highlight of the course was the interaction with the both of you. You answered all my questions in a timely manner. I can't thank Craig enough for his help with my coding questions and Nick for his advice in designing and testing my trading systems. I really enjoyed the mentoring and I hope to continue my relationship with you guys in the future."
Darryl V.
"The money I have invested has well and truly paid for itself. I'm very happy I signed up and where you guys have got me to where I am. Couldn't be happier."
Hans R.
"I'm excited about deploying [my] system, learnt so much over the duration of the course it has been great, and I think life changing thanks."
Said B.
"[The] trading system mentor course is not a course that will only teach you how to write correct strategies in Amibroker but it goes further than this. It teaches [you] how to gain confidence in the system that you develop and gives the correct mindset that will make you follow your system in the bad days before the good. The course is well organized that it will take you from one stage to another till you reach the final destination of full confidence in yourself and your system development abilities as well as in the system that is developed. Great thanks to Nick and Craig for their guidance and for the great opportunity that they gave me to access and benefit from their experience and walking the journey along side with me to move from amateur system developer to a more experienced one."
Stephane F.
"...let me tell you that this course is absolutely fantastic. It is very clear, interesting, practical… Congratulations to the whole team!!"
Julian C.
"I just wanted to say a massive thank you for everything over the last few months. I have to compliment you on an extremely well thought out and presented program. I am recommending to friends that I think will benefit so hopefully some will come to you in the next few months."
Tony S.
"Since the GFC I've been looking for a smarter way to invest - one that helped me capture the growth as a market swings up and minimises the downside when it falls. I've spent so long searching online, reading highly rated books and reading white papers. Then through a stroke of luck I discovered Nick Radge. For the first time ever I felt that I was actually investing with a plan that would work for me whether the market went up or down. I wasn't beaten by the GFC in 2008 as I'd panicked at high valuations at the end of 2006 and sold everything. That meant I missed all of the gains in 2007 but also the losses in 2008. Thanks to Nick's work and my learning I felt confident that in the future I wouldn't be scared out of the market and I could trade with confidence knowing that following a tested systematic approach I could safely invest for the years ahead."
HERE'S HOW IT WILL WORK
Once you're certain you want to make the giant leap to successful systems trading, and providing we have space available, you will be given exclusive access to our secure Learning Management System (LMS).

Within the LMS you will find extensive tutorials, videos, quizzes and tasks that are the culmination of 45-years worth of experience. For the first time ever we're unloading our extensive trading knowledge into one location.

Within minutes of ordering you will be able to access decades worth of effort, experience and knowledge. None of the content is drip-fed - you get the lot straight away. The LMS allows you to work through at your own pace but you will be on the fast track to results.

If you are brand new to system trading you will have a lot of questions whilst you learn the ropes. We are here to support you.

If that challenge appeals to you then you will succeed!

Having your own mentor speeds up your learning process and provides you with the support you need to get results much faster than going it alone.

Never get stuck with a virtual roadblock again.


You will be held accountable...


Once you have completed the Trading System Mentor Course you will be required to trade real time, using unseen market data, for a minimum of 3-months. You will be expected to trade with an execution confidence level of at least 95%.

This is not another throw-away course. There are plenty of those out there that leave you in the trading wilderness.

We will ensure you use your new found knowledge and start generating profits straight away.

Only genuine candidates need apply as we're not going to waste our valuable time if you're not serious about becoming a successful trader.

Like any high level of education you will have to make a significant investment and put in hours of hard work. The Trading System Mentor Course can help you with great information but you can't expect to become a successful trader unless you work hard and put in the energy required.

Of course, the Trading System Mentor Course is not for everyone.

You should only consider the Trading System Mentor Course if:
You are certain of the quality of our services and have no doubts about the value we deliver.
Completely committed to becoming a great systems trader. It can be difficult to judge someone's true level of commitment before admittance to the program. If you feel like you need to have a refund policy, the Trading System Mentor Course isn't for you.
You have sufficient trading capital to ensure the course makes financial sense. If you have $50,000 to $100,000, then this program probably doesn't make financial sense. If you have more than $100,000 then you could easily save the cost of the course by learning simply how to avoid a few large losses. Furthermore, it's our intention that you would be able to recoup the total cost of the program within a few years.
You're up for a challenge - and challenged you will be! If you're totally committed you will always reach your objectives regardless of obstacles.


HOW TO APPLY

Due to the nature of the one-on-one mentoring and the sizable investment of time by the mentors, the Trading System Mentor Course is only available by invitation and after a successful application has been lodged. To assess your compatibility you will be required to fill out a brief questionnaire and return via email. Insert your email address to receive the questionnaire.

FREQUENTLY ASKED QUESTIONS

Can anyone join the Trading System Mentor Course?
No. The course isn't necessarily a good fit for everyone. From a practical standpoint you will need to have sufficient trading capital to ensure the investment makes financial sense. Secondly, you will be challenged and require the commitment to complete the course within the allotted 6-months. If you are completely committed then we guarantee the time allotted will be sufficient.

How many hours will I need to commit per week?
You can work through the complete course at your own pace however personal mentoring will only be available for 6-months from your start date. We have had students finish the theory within 2-months and others that have needed 4-months.

I live internationally. Will that be a disadvantage?
No. 50% of students are international. We take several measures to ease the burden of long distance mentoring for our international students. First, all theory is provided by a secure LMS which is accessible 24/7. Much of the information exchange for mentoring can be done by email, Skype and Team Viewer.

What software will I require?
The course is based on AmiBroker which we consider the best value for money testing software available. Students are required to purchase AmiBroker prior to starting the course. We will teach you how to use the software and how to purchase and integrate data with AmiBroker.

Is AmiBroker included in the course price.
No. AmiBroker is a one-off investment of US$339. You buy the program and you own it forever. You may choose to upgrade or not, whenever you want. The license is personal, so if you own 3 computers, you can use your single personal AmiBroker license on all of them.

I can already program AmiBroker. Can I get a discount?
No. Over the years we have seen many trading systems that have been programmed in AmiBroker and many of those were simply not suitable to trade professionally. We have also had one student with 10-years AmiBroker experience that was able to learn many new skills from the course.

How do I make course payment?
Once you have completed the required questionnaire and if an invitation is offered to you, you will be invoiced. Payment can then be made via credit card, PayPal or Direct Bank Transfer.

Can I get a refund?
No. We provide all information immediately and mentoring is ongoing throughout the 6-month course. You may however request a sabbatical if:
You or an immediate family member suffer a serious health problem.
You have a death in the immediate family.
A natural disaster occurs.
Special circumstances at our approval.

If I design a trading system of my own, how will I know it remains proprietary to me?
We do not disseminate any information about other students strategies and have been programming proprietary strategies for clients around the world since 2008. However, we will sign a non-disclosure agreement although you would need to prove that the system, or parts thereof, are in fact completely original to you.

How many systems can I design?
As part of the course you will be required to design, build and trade at least one system that is agreed upon by the Mentors. Obviously with the new knowledge you will be in a position to design, build and trade as many systems as you require.

Do you have a payment plan?
No. As has been stated, access to all information is immediate upon approval.

Can I just pay for the theory and forgo the mentoring?
No. The true value of this course is the personal insights from the mentors to help meet the student's specific needs.

How do I retain the written theory after the 6-months has expired?
As a student you will continue to have access to the secure LMS area and can revisit all aspects of the course at any time.

Can I claim the cost of the course through my tax?
We are unable to advise on that. Please speak with your accountant or tax advisor.

I only trade FX and commodity futures. Will this course be suitable for me?
Whilst the information provided throughout the course can be used in any market, the focus is on stocks and stockmarkets.
Given that the objective of this course is to create successful systems traders, have you mentored anybody to become active systems traders before the creation of this course? If so, how many?
I have done personal consulting since 2008 for 82 clients to different degrees and have been engaged by 5 larger organisations (accountants and financial advisors) to develop internal systems.
Will the students have a means to interact with each other in a type of "study group" environment?
Yes, within the LMS is a forum that was built specifically for this reason. We also run a monthly live group call where all students can interact with mentors and other students.
¹Source: Australian Financial Review, "The Man Behind The Models"
² Source: www.tacticalnet.com
³ Source: Forbes